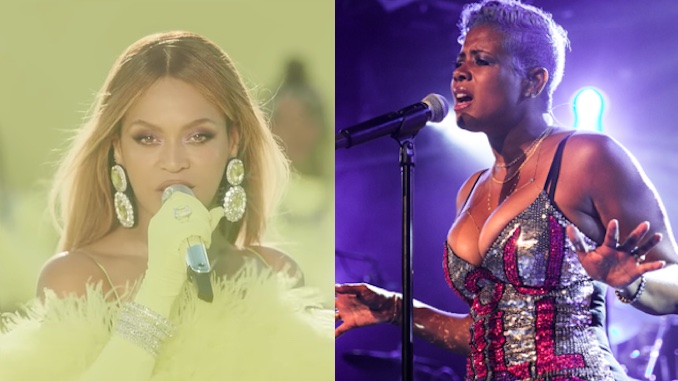 "It's not a collab it's theft": Kelis responds to Beyoncé Renaissance Sample

This article has been updated to reflect Kelis' official response to the situation.
Kelis, the R&B/hip-hop superstar of the early 2000s, took to Instagram last night to talk about Beyoncé sampling her 1999 song "Get Along With You" on "Energy," the fifth track from the singer's long-awaited album Renaissance. The news comes a day after the album was leaked two days before its official release, likely due to CD copies being prematurely put on shelves in Europe.
In a response to a post from fan account @kelistrends on Instagram, Kelis took to her cooking account @bountyandfull to address the sample. "I heard about it the same way everyone else does," the singer said. "Nothing is ever what it seems, some people in this business have no soul or integrity and they have fooled everyone." In a response to a fan who said the two should collaborate, she said, "It's not collaboration, it's stealing."
Kelis has openly stated that she struggles to take ownership of her past work. In an interview celebrating the 20th anniversary of her debut album Kaleidoscopein which "Get Along With You" is taken, the singer recounted The Guardian that she received no money for her first two albums, both produced by The Neptunes. The singer also had no songwriting credits on the albums. Kelis claimed that after choosing to work with a variety of producers for his 2003 album Delicious, The Neptunes were offended and no longer worked with the singer. In the official songwriting credits for "Energy", Kelis' name is not included. Pharrell Williams and Chad Hugo, the two producers who make up The Neptunes, are credited.

UPDATE: Kelis responded to the situation in two Instagram videos. After a performance in the UK, the singer sat down to respond to comments saying "The reality is my real beef isn't just with Beyoncé…it's common decency because like a lot of 'among you pointed it out like I don't know but let me help you, I know what I have and what I don't.
She goes on to say that those who blindly defend Beyoncé are "sheep", saying it was "stupid and disrespectful" not to reach out. "The real problem is that people, like Pharrell and like Chad . . . Pharrell knows better," says Kelis. "It's a direct hit for me. He does this thing all the time. It's very small.
Kelis further asserts that "it has to do with the fact that, from artist to artist, you should have the decency, courtesy, and common sense to call a manager, an agent, anyone just to be like 'Yo, head up. That's what we think. That's what we do.
In a second video, Kelis adds, "It's not about Beyoncé. . . the reality is that it's more about the fact that there's a lot of hypocrisy and nonsense. She cites Pharrell working with NFT creators to help protect artists' rights and compares it to her own situation when working with the producer. "When I was signed with him, I had the same manager as him and he has writing credits on my records, all my singles by coincidence, and he never wrote a song or a lyric a day in his life.
She calls out Beyoncé's message about female empowerment, saying "All that female empowerment stuff only matters if you actually do it."
Below, revisit Beyoncé's "Break My Soul" and Kelis' "Get Along With You." and discover our most anticipated albums of July here.